How can an industry with such strong parameters grow creatively? At first it may look as though there isn't any room to stretch the growth opportunities. Catering to the public, but staying within strict designated guidelines is sometimes like a high wire act. Legality is of the utmost importance, and customer care ranks right up there with it.
Keeping a vibrant practice going isn't as easy as it was a few years back. Take tax preparation for example. More and more people are preparing their own taxes with on-line software they purchase privately. It may save them hundreds of dollars, but cost them more in time, nonetheless it's clearly an aspect of business that accounting firms are seeing shrink.
Many small businesses in the effort of staying lean purchase the do-it-yourself client accounting systems. They start out with great intentions, withdraw this service from their regulars accountants docket and take it on themselves. The problem is they are not accountants and the do-it-yourself software is not always set up intuitively for the lay person. To a good extent a customer is hand held, but within accounting, numbers have to be precise to give the explicit picture. Many of these hopefuls end up making a mess of their books and then a bona-fide professional must come in and fix it.
These are two of the core services to any accounting firm. They are the bread and butter that pay the light bill. When they dwindle they have to be replaced with something else.
While technology has worked against the industry, the good news is it's also the lifesaver that it needed. With the new technology advances also comes the potential to get back some of the business accounting firms have lost. It doesn't stop there. Cloud accounting technology is in the process of transforming and revamping accounting practices all over the world.
Certain types of cloud technology can reduce the non-billable tasks that are a part of every case. Examples of this are paper shuffling between accountant and client, fixing client errors and managing different versions of software. To be more specific, when it comes to client inefficiencies and spending time cleaning up after the do-it-yourselfer before actually being able to get to the core of the project makes it a non-paying time eater. The matter gets worse when a client sees the accounting firm as not as important to the process, since they think they did most of the work themselves.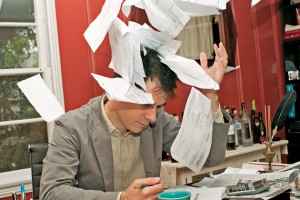 Managing up to 5 or more different software packages is not unusual. A firm has to be savvy in all or they could lose a client. This has to be a nightmare for their IT department, but if a client wants to use an outdated version of QuickBooks the practice has to be able to accommodate.
In today's business atmosphere, there is room for growth in a proactive practice. Like any other business arena staying on the pulse of change translates into a sustainable business. Those who get stuck in the "old ways" end up losing too much ground and clients drop off little by little. For an industry that we once thought of as indestructible, we have learned that keeping abreast of technology and using the cloud is imperative to a healthy future.
Leave your comments below and– keep your numbers straight.